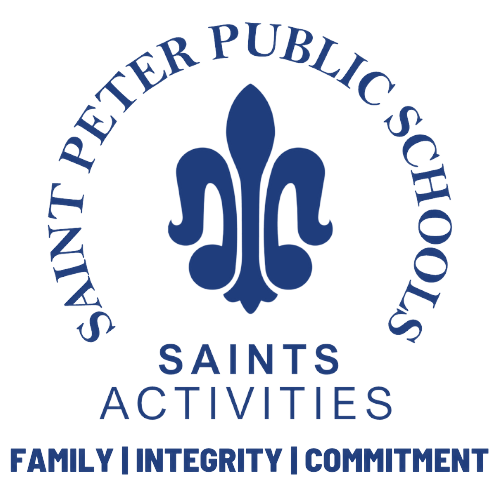 SAINT PETER SAINTS
WRESTLING
Activity Pages:
Adapted Bowling
Baseball
Boys Tennis
Golf
Softball
Track & Field
Varsity:
JV:
Coach: Wallace Micheals

Coach: Mike Hoenstein
Remind Code: Ask Coaches
Emails from Coaching Staff and Captain's Parents
Facebook Page: St. Peter Wrestling
MatBoss App
TrackWrestling
Varsity/JV/MS practice all together in the MAC room at the HS from 3:45-5:15 after school.
9-12 graders are asked to do conditioning from 3:30-3:45 while waiting for MS students
"The Push" is Monday mornings 7:00-8:00 and Wednesday mornings from 7:00-8:00
Winter Break practices are TBD
Schedules can be found on St. Peter School website
Typically, all athletes travel to meets
Tournament travel depends on the type
All athlete are expected to stay until the end of the event, and help clean up the bench, bleachers, and locker rooms. Leave it better than we found it!
There will be a wrestling handbook handed out at the beginning of the season meeting with team rules, lettering policy, attendance policy, wrestle off policy, etc.
Athletes should bring athletic clothes for practice. There are a few pairs of wrestling shoes and headgear available, but bring your own if possible.
Singles, warm ups, team bags will be provided before te first meet and are expected to be returned at the end of the season.
A locker and lock will be provided in the varsity locker room.
Showers are REQUIRED after every practice to minimize the pass of skin disease
St. Peter Youth Wrestling Club helps fund a majority of our equipment and expenses throughout the season. This year they helped to purchase a brand new competition mat. On account of this, our athletes and coaches are expected to give back through volunteering at their practices and tournaments.
Wrestlers are expected to attend the St. Peter Youth Wrestling Tournament, Sunday Dec. 4th, to help back work tables and referee.
Youth wrestling is hosting a "Try It For Free" week Nov. 14th-17th. Athletes are stronly encouraged to attend, as these youth wrestlers look up to you as role models.